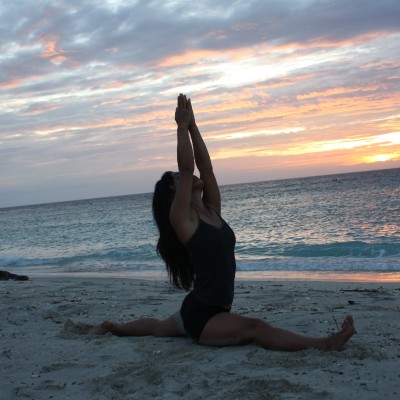 *** PLEASE NOTE: I am taking a bit of a hiatus from teaching and my Cusco class schedule until June 15, 2015 will be very LIMITED (see schedule below). From June 15 until October 29, 2015 I will be traveling and will not be teaching at all. 
Stretch and relax your tired body after a long trek. Decompress after weeks of frenzied travel. Yoga and meditation can help you unwind physically and mentally – not only easing your achy muscles but helping you breathe better in Cusco's high altitude.
My teaching style is a fusion of my experience – from gentle flow to dynamic vinyasa, with a strong focus on alignment and breathe, as well as an integration of other relevant movement modalities and spiritual philosophies. If you want to know more about me, visit this page.
Classes are small by design in order to tailor the flow to the energy of the class and experience of its students. I'm very hands-on and I enjoy working with individual needs so that each of my students can evolve their practice in their own way.
You don't have to be able to touch your toes to practice yoga. Yoga is for everyone and all levels are encouraged to come. All you need is an open mind and a willing body. Please wear loose or stretchy clothing that you can move in.
For those currently in Cusco, below is the MoveStillFree CUSCO yoga and meditation schedule. Please feel free to contact me (here or through FB) for more info.

*****
MONDAY

No classes

TUESDAY

No classes

 

WEDNESDAY

8.30-10am

KIDS YOGA
Rurucha Cuna Jardin
Magisterio
(must be registered)

 

THURSDAY

9-10.30am

YOGA DROP-IN
Yoga Room Cusco
San Blas

 FRIDAY

No classes

SATURDAY

No classes

SUNDAY

No classes
DROP-IN CLASSES
These weekly classes are designed to suit the changing energy and needs of its practioners – sometimes gentle and restorative, other times energizing and dynamic. No matter the flow, regular practice will help to build strength, balance, and flexibility in mind and body through movement and breathe techniques.
PRIVATES & SMALL GROUPS
I also offer private and small group classes tailored to specific needs. Drop me a line if you'd like to book a one-on-one or your own private small group session!
• Yoga for hikers • Yoga for altitude (breathwork) • Dynamic flow • Yoga therapy • Yoga for strength • Yoga for flexibility • Yoga for parents • Mom & Tot yoga • Office yoga
Contact me for prices.