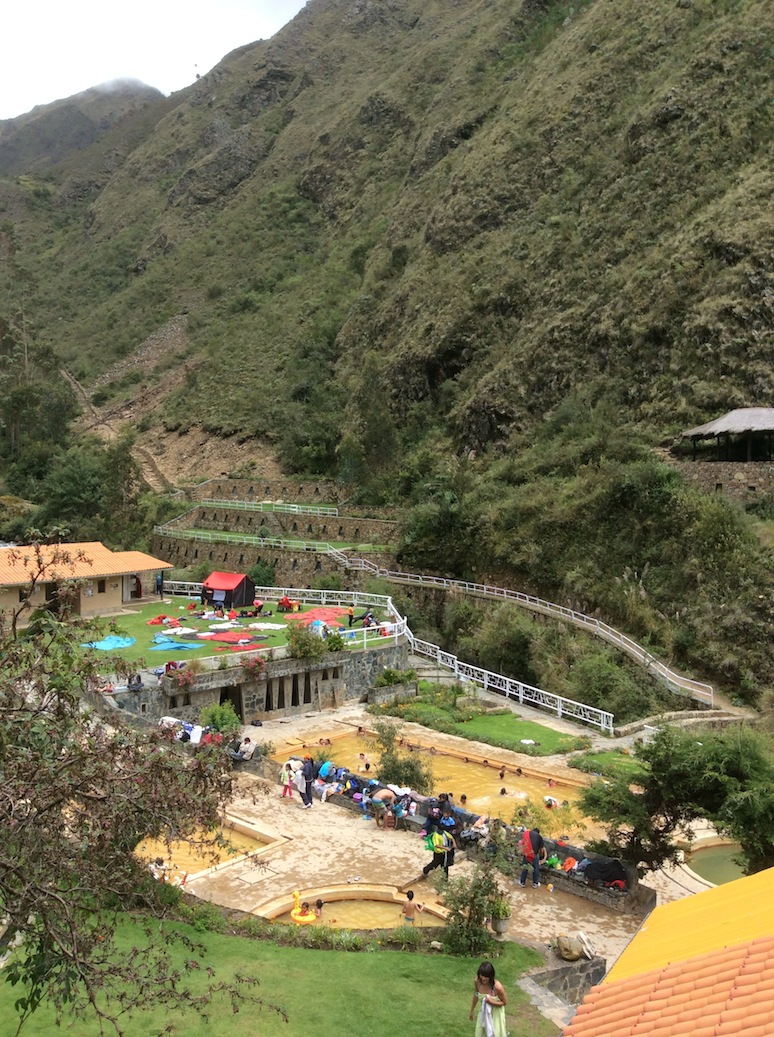 Thermal Baths, Lares, Peru (photo credit: Marianne Comilang)
In light of this darn Grand Cross thing (or whatever the energetic reason is that my ATM card has been compromised and other not-awesome things), I'm thinking fondly back to our recent trip to Lares Hot Springs and wishing I was back there again, luxuriating in a natural hot bath without a care in the world. So the following post does veer on the lighter, less esoteric, side of things. Trying to stay upbeat. If you're having a tough day, just imagine sinking into one of these hot springs and letting it all melt away…
***
I recently spent the weekend at Lares Hot Springs, about 3 to 4 hours journey from Cusco (Peru, in case you're wondering). While not the easiest place to get to (it's a tummy-churning bus trip to the Sacred Valley, then another more nausea-inducing bus up then down a mountain pass), it was actually well worth the journey.
The vistas are spectacular along the way, as they typically are around the Cusco mountain region. And as we veered along switchback after switchback, I tried to enjoy the Middle Earth-like view and ignore the nausea that was churning around like a little tornado in my belly.
*** Side note: I'm a bit (more like a lot) sensitive to motion and can no longer enjoy the amusement park roller coasters I used to love in my youth. Long and winding mountain drives give me a similar spinning feeling in my gut (which, of course, is ironic because I live in the mountains). Anyway, I digress….
Seriously, once we arrived, there was no regret. At 3900m above sea level, the Lares thermals are literally in the middle of nowhere with lovely manicured gardens and six thermal pools, all varying degrees of hot and cold.
Ah, what a luxury to slip into a natural hot spring or a thermal bath and let all your worries melt away! There's nothing like soaking in an outdoor bath while enjoying one or more of the following awe-inspiring views:
a) the grandeur of the mountains
b) the open space and barrenness of the desert
c) the lush wildness of the tropical rainforest
d) the blue tranquility of the ocean
e) the vast wonder of a starry night sky
And it got me thinking about all the wonderful benefits of the world's thermal pools, warm ponds, and hot springs, and how fortunate I've been to have visited some of them.
What are thermal baths?
A natural thermal bath, or hot spring, occurs when water seeps deep underground into volcanic soil, and then rises to the surface, heated and full of minerals. There is an actual term for the use of hot spring water for health and healing. It's called balneology. And in some countries, people have regular thermal baths as part of their healthcare regime – mmm sounds nice.
What are the benefits of soaking in natural hot springs?
Anyone who enjoys soaking in a hot bath understands the allure of relaxing in a natural hot spring. Sinking into a warm or hot pond is like surrendering into a pool of warm hugs. It feels really nice and you kind of want to stay there forever. And not only are they relaxing, thermal baths are said to have numerous therapeutic, healing, restorative, and rejuvenating benefits as well.
Here is a laundry list of reasons why it could be a good idea to jump into your closest hot spring:
The heat of the water relaxes the muscles and the buoyancy just may put you into a calm and meditative state, relieving anxiety and stress.

The hot air from the springs may bolster the respiratory system, like a sauna or steam bath.

The bicarbonate characteristic of thermal baths can improve circulation and hypertension.

The sulphur in hot springs can treat skin ailments like acne, rashes, eczema, psoriasis, rosacea, and dry scalp.

The high concentration of mineral salts can help with the regeneration of skin cells.

The magnesium, calcium and potassium in many thermal water pools help reduce heat, inflammation and sensitivity.

The neutral pH of mineral waters helps to restore balance to the skin's pH.

A hot thermal bath may improve the nervous system and aid the body's detoxification processes.

Soaking in a thermal spring may help your body fight infections.
A world of hot springs
There are so many hot springs and thermal baths all over the world. And I feel grateful to have been able to visit a few. Here are some of my favourites:
Peninsula Hot Springs, Victoria, Australia
I try to the get to the Peninsula Hot Springs whenever I'm in the Mornington Peninsula visiting family. It is a tranquil oasis just 90 minutes from Melbourne. There are more than 20 bathing experiences at the Springs including a hilltop pool with an incredible 360-degree view, a reflexology walk, a Turkish steam room, a sauna, and a cave pool. If you're lucky and you come on a quiet day (i.e. not weekends or holidays), you might have the hilltop pool to yourself. The views are spectacular. And if you can, combine the springs with a relaxing Kodo massage. I did and it was well worth it!
Mataranka Hot Springs, Northern Territory, Australia
We did a 3-month road trip across Australia in 2010, and after those long drives through the bush, nothing could have been better than to stretch out in a thermal pool. There are two options. Both are located in Elsey National Park.
Of the two, Rainbow Springs (aka Mataranka Thermal Pools) is more popular, probably because of its shallower waters and family-friendly design. Bitter Springs is a bit more rustic with deeper waters. You can actually swim downstream to a bridge, then take a leisurely stroll down a shaded path back to the main spring.
Katherine Hot Springs (more like Warm Pond actually), Northern Territory, Australia
While Katherine is maybe better known for Katherine Gorge, the Katherine Hot Springs are a great place to go for a relaxing soak in warm water (as opposed to the fresh cold water of the Gorge). The water is a bit cooler than Mataranka at a comfortable 32C and was designed with family in mind, with concrete steps, wheel chair access, and stainless steel rails. Pandanus trees line the area keeping it shady and perfect for a lazy day swim. Another great find during our 3-month Australia road trip!
Ahanalui Warm Pond, Big Island, Hawaii
How lucky can you be when the public swimming pool is an Olympic-size natural warm pond right by the ocean? When we lived on the Big Island in 2012, this was our regular local haunt as it is with most of the residents in the area.
All of the Big Island is volcano – both active and dormant – so there are numerous hot springs and warm ponds all over the island, some officially-recognized, while others remain the secret of the locals in the know.
Ahalanui Hot Spring (also called Pu'ala'a) is one of the most popular and more developed. Located on the Puna side of the Big Island, there's even a lifeguard there most of the time. The spring has a narrow outlet to the ocean, so the cold water from the ocean cools the waters to a comfortable warm temperature. This is seriously one of the world's best swimming pools, IMHO. The swimming pools of my childhood were normally indoors, freezing cold and full of chlorine and kiddie pee. They definitely didn't look like this.
Pohoiki Warm Pond, Isaac Hale Beach Park, Big Island, Hawaii
Also on the Puna side, Pohoiki Warm Pond in Isaac Hale Beach Park is a tiny little pond tucked away and shaded by trees but close enough to the ocean to watch the surfers ride the waves. I loved coming here when I was on the Big Island. It's small and intimate, and slightly secluded. It's like a natural jacuzzi by the ocean. What's not to love?
The Champagne Pond near Kapoho, Big Island, Hawaii
A friend first brought us to this hidden gem, again on the Puna side of the Big Island (this is obviously where it's all at). The pond is located within a gated community. So in order to get there, you have to park your vehicle outside the front gate. From there, it's a 20 minute walk. And totally worth it. Fed by the Pacific ocean sitting right at its doorstep, the pond is nice and warm, becoming cooler as you swim closer to the oceanside. Snorkel gear is a must here. You just might be lucky enough to swim with sea turtles!
The Polques Thermals, Bolivia
The highest thermal bath I've ever visited was in the Altiplano of southwest Bolivia during a multi-day tour to the otherworldly Salar de Uyuni and the Lagunas Coloradas in the region of Sud Lipez - 4500m above sea level and surrounded by nothing but the Dali Desert with its hot geysers, multi-coloured lakes, vicunas and flamingoes (yes, flamingoes). It's hard to believe that in this high-altitude dry desert landscape, there is a plethora of natural thermal pools, heated by dormant volcanoes. Here, the sun is fierce and the wind has bite. The warm waters of the thermals are comforting against the cold air but it's hard to escape the sun's rays. Sun screen and a hat are a must. I simultaneously wore a winter hat (toque or beanie depending on where you're from) and a bikini.
Arenal Hot Springs, Costa Rica
Years ago, I ventured off to Costa Rica with my friend Linh where we discovered the Arenal hot springs. Thanks to the Arenal Volcano's geothermal activity, there are a number of natural hot springs throughout the area. Warm and soothing, in beautiful rainforest surroundings, we spent the evening at the Tabacon Hot Springs, a luxury resort and spa. Moving from pool to pool and eventually ending up under a waterfall, the evening ambience gave our experience both a mystical and festive feel.
Baños de Cuenca, Ecuador
Last year, Shane & I wandered over to the pretty mountain town (and popular US retirement community) of Cuenca, Ecuador and our Airbnb hosts – the lovely Josh and Lynsey – recommended that we check out the hot springs in Banos de Cuenca close by. It's an easy local bus (take bus 11 or 12) or taxi ride about 30 to 40 minutes outside of town.
Like Arenal in Costa Rica, there are a few options as far as enjoying the springs in Baños de Cuenca. We went to Piedra de Agua Hot Springs and Spa. Beautifully-landscaped and muy tranquilo, we spent the day enjoying the entire spa circuit, which includes a dry sauna with aromatic leaves, a vapour steam box (you actually sit in a box with your head poking out of a hole), two volcanic mineral mud pools (a red one and a blue one – know idea what the difference is), plus the thermal pools (one that's underground, a cold plunge, two outdoor thermals, and a swimming pool). Best part, you can stay as long as you like!
***
So now I would like to apologize for the lack of photos accompanying this post. But I'm sure you understand how hard it is to remember to take photos when you're busy relaxing in the hot springs. I wonder if Toronto has any hot springs because that's where we headed and I sure could use another soak. That might be wishful thinking.
With the inception of every new year, people love talking about resolutions – ways they can make improvements in the coming year. I'm not one of these people. When it's time for change or improvement, I believe that now is as good a time as any to start. Simone de Beauvoir said, "Change your life today. Don't gamble on the future. Act now, without delay". She was right. Why wait until a brand new year to make life better for yourself? Every day is chance to begin again. In fact, everyday we do begin again, don't we?
But now that 2014 is well underway, I thought I might share my own personal promises, reminders, and intentions that guide me daily and help me live better. Let's call them daily resolutions.
Make time to move.
Move. Every day. Even if it's just taking a walk. We all know that physical activity is good for you so I won't even bother listing the benefits. For me, movement usually means yoga, dance, riding my bike, or taking a walk or hike, depending on where I am. I don't really have a constant routine because my schedule and location change often. But I try to make time to move even if it's just a short walk and a stretch. It makes me feel good.
Make time to be still.
This is a tough one. Being still is hard for people, including myself at times. But it is so worth taking the time for stillness and meditation, even if it's just 5 minutes a day to start. If you're not convinced, here are some of the proven benefits of meditation:
It provides relief from stress and anxiety;
It helps you focus;
It develops creativity;
It improves memory;
It boosts the immune system;
It reduces pain (physical and emotional);
It lowers blood pressure;
Apparently, it even makes you look younger and healthier.
Simplify.
Generally, many of us make money only to spend it on things that just add to the clutter in our lives, without adding to our overall wellbeing. The Japanese concept of shibumi is the belief in the beauty and sophistication of simplicity. In my case, living a nomadic life for many years has forced me to cull down to only what I can pack into a couple of bags. This decluttering process is something that, for me, has been necessary from my own wellbeing. I had accumulated a lot of "stuff" which was distracting me from living with more purpose and clarity. It is incredibly freeing to realize how little I actually need.
Be grateful for what you have.
Being a witness to poverty – and I mean REAL poverty – all over the world hits a nerve. How can I not be grateful for all the abundance in my life? Coming face to face with people who have much less than I do (in the material ways we normally think about wealth and abundance), yet are so full of joy and generosity, makes you wonder what truly makes us happy. Eckhart Tolle says, "Acknowledging the good that you already have in your life is the foundation for all abundance". Gratitude makes you realize how abundant your life already is.
Spend less time online. 
I don't own a smartphone. Neither does my husband. We might be the only people who don't these days. I used to be one of those people – phone in hand at all times. But there came a point when I realized how much this was distracting me from being present. Yes, these devices have their purpose but, sadly, rather than using their phones only when necessary, so many people choose to be with their devices instead of being with the people they are actually with at that moment. In other words, it seems that the more connected we are, the less connected we become.
This video says it all (plus she's Asian – probably Filipino – so this really speaks to me):

Be present.
Being present is being aware and engaged. It means paying attention to what's happening around you and within you. Lao Tzu said, "If you are depressed you are living in the past; if you are anxious you are living in the future; if you are at peace you are living in the present". I'll take peace, thank you.
Live life with wonder.
Wonder is the beginning of wisdom. ~Socrates
As children, we are constantly filled with wonder. Sadly, as we get older, our sense of wonder is replaced with practicality, doubt, cynicism and skepticism. But what if we chose to approach life with the same awe we experienced as children? How different life would be. I am constantly amazed at what life brings, almost on a daily basis. This awe and wonder causes me to keep seeking and exploring. My life may be a bit too exotic and adventurous for some. But if you pay more attention to the little things in your own life, you'll quickly discover that it's the simple and most obvious things that can fill us with wonder.
Waste less.
People are incredibly wasteful – all over the world, rich and poor, people are wasteful. In different ways, yes. But wasteful nonetheless. Mostly, this comes from not knowing better or understanding the consequences of one's actions. Amazing projects like Zero Waste Home and No Impact Man have really influenced my own habits. Being aware of how your actions affect the rest of the community and environment and the larger world affects the decisions you make in your daily life. I've become very aware of how much I use and try to use less as best as I can – by buying less, making less garbage, and being mindful of my own energy consumption.
Eat well.
Whenever possible, eat local. Whenever possible, eat organic. Whenever possible, eat non-GMO. Don't eat processed foods. Eat your veggies. Eat with gratitude. Eat in the company of friends and loved ones. That's eating well.
Get enough sleep.
Dear sleep, I know we had problems when I was younger, but I love you now.
During my teens and 20s, I was a fatigued sleep-deprived insomniac with serious FOMO. It's been a long journey of learning to relax, unwind, and let go of certain desires, but gifting myself with more sleep has drastically improved my waking hours. I am more alert and functional, less irritable and anxious. I actually feel awake during the day. I rarely use an alarm clock anymore. I don't need one. I try to give myself 8 hours of bed time. So I go to sleep to allow for that. Seriously, sleeping has changed my life.
*****
It's common knowledge that some of the leading causes of death in the western developed world are largely preventable through behavior change. But instead of waiting until January 1 to make drastic changes to your life, what if you shifted your resolution-making to today, without any judgment of the outcome. My daily reminders are just that – reminders. Sometimes I think of them and sometimes I don't. However, when any of them do occur to me, implementing them in some way does make me feel better that day. And it's these small daily shifts that make all the difference.
People can be mean. Even when they don't mean to be. Sometimes those offhand remarks leave the biggest scar. You never know how someone feels about themselves and words hurts. Intentional or not. Directly or indirectly. Actually, it's not the words themselves that are hurtful. It's what people associate with those words. That you're ugly. That you're lacking. But you're not. You are exactly enough. Silence that inner critic that's telling you you're not good enough. Because the truth is, you're perfect. You are beautiful.
If people are staring at you, they're staring at you because you are beautiful. Everything about you is perfect. You are sadly mistaken, I'm afraid. There is nothing wrong with you. All those things about yourself that you think are ugly are beautiful. The combination of all your so-called imperfections are what make you perfect. True beauty is what you see every time you look in the mirror. You don't need makeup. You don't need surgery. You don't need a padded bra or high heel shoes. You just need to be exactly as you are.
So this is for you …
…because …
…you are more beautiful than you think.