It's my first Christmas in Cusco. And my friend Elizabeth and her husband Erick (who own two of my favourite restaurants in Cusco – Uchu and Marcelo Batata) helped organize a chocolatada in the Sacred Valley. And they needed help. So I volunteered without a clue of what a chocolatada was. It sounded like it had something to do with chocolate …which was enough incentive for me!
It turns out – as its name suggests – a chocolatada has everything to do with chocolate. And much more than that, it is a Peruvian tradition of celebrating the holidays by giving to those less fortunate.
And what better way to celebrate the holidays than with chocolate? Chocolate is an essential part of Peruvian culture and tradition year round, so it only makes sense that chocolate is a big feature during Christmas. Especially in the Andean mountains where a steaming cup of hot chocolate (or chocolate caliente) is a delicious comfort in the cool temperatures and spotty thunderstorms of December's rainy season. This is my second blog post about chocolate. But you can't get away from it in Cusco. I mean, there's even a chocolate museum here!
What exactly is a chocolatada?
It's a time when groups of people – communities, organizations, churches, businesses, families, friends – gather to show their philanthropic side, donating time and money to bring a bit of Christmas cheer to those less fortunate. Chocolatadas happen throughout December leading up to Christmas. It's sort of like a food and toy drive except, instead of anonymously dropping food and toys into a box and never meeting the recipients of your gifts, the chocolatada provides a more meaningful opportunity to connect giver and receiver in-person.
In Cusco, hundreds (perhaps even thousands) of people come from the various villages (pueblos) in the surrounding area and camp out in the Plaza de Armas waiting for the day of Christmas Eve to arrive, when they will receive a cup of chocolate caliente, paneton (an Italian sweet bread sometimes filled with candied fruit or chocolate) or bizcocho (the Peruvian version of sweet bread), and often a small gift. Across the city, crowds of people fill the streets as businesses and churches celebrate their own chocolatadas, doling out Christmas spirit and lighting up the faces of hundreds of children.
The day
The chocolatada that I participated in took place a couple of weeks before Christmas in a small community called Sacaca about 1.5 hours from Cusco, 20 minutes outside Pisac in the Sacred Valley. A few Cusco- and Sacred Valley-based businesses had joined forces to organize this particular event – a tour operator (The Journey Experience), three restaurants (Uchu, Marcelo Batata, and Blue Puppy), and a hotel (Tika Wasi) – under The Journey Experience's non-profit arm, OyE (Optimismo y Esperanza). OyE has been building a relationship with this area of the Sacred Valley, in order to help them build their economy, showcase their culture, and preserve their environment through sustainable tourism.
Although the weather was promising when we headed out from Cusco in the morning, the storm clouds loomed ahead of us toward the location of our chocolatada. Sure enough, the moment we arrived, the thunderstorm began. But this did not discourage the kids from coming. About a dozen of us – business owners, friends and family members – looked on as about 150 kids of all ages descended upon the tiny little make-shift restaurant on a hill overlooking the Valley. As they all filed in to shelter themselves from the rain, a sea of excited faces and smiling eyes, I suddenly felt incredibly humbled to be there. It was an honour to serve them, even just for a day.
For a while, the heavy rain brought everyone under the roof of the rustic little cafe. To wait out the rain, Elizabeth gathered the children together to sing some songs and play an impromptu game of hot potato. The rain began to subside a bit, so a few of our team went to blow up balloons for the kids. As they did this, we began to serve the chocolate cliente and biscocho to a seemingly endless line of people – children, parents and teachers.
We decided to move to the local school for the gift-giving and more games – Elizabeth and I traipsing through the rain and the muddy hills to keep up with the kids who, in their sandals and flip flops, skipped along as if walking through mud is completely normal.
The piñatas we had brought had gotten soggy from the rain and had fallen apart by the time it was time to set them up. So we decided to break open the piñatas and throw their contents into the air for the children to grab. As you would expect, the result was utter chaos. And it wasn't over yet! Following the piñata madness, we somehow managed to get the children to form lines to receive their gift – all generously pooled together by the organizations involved. One by one, each child received a mini paneton, some edible goodies, and a small toy.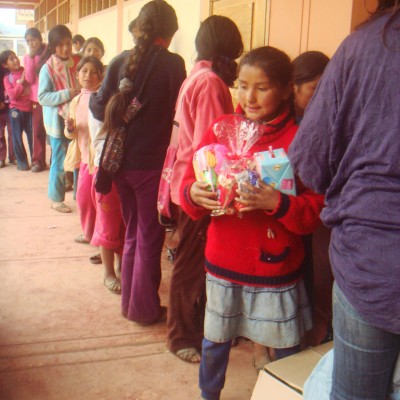 Once every child received their gift, it was time to pack up and head back to the little restaurant on the hill for a late lunch. It was an opportunity for the restaurant to practice its culinary and hospitality skills, serving local cuisine to foreign "tourists" (or gringos). It was a wonderful way to end a wet but wonderful day.
The reality and the hope
While the chocolatada is by no means a solution to poverty, it is a beautifully grand gesture of love and generosity – an opportunity to share with those less fortunate. But it's important to recognize that poverty in Peru is year-round. Many small Andean communities lack access to clean water, electricity and a proper waste disposal system. And thousands of rural Peruvian families struggle to feed and clothe themselves.
Yes, the chocolatada is a joyful and festive celebration for all. But it's also an opportunity to think about how we can help those in need all year round in whatever way we can, not just during the Christmas season. Imagine if this simple collective act of generosity was duplicated worldwide – a global tradition of self-less giving. When you participate in real connections with people from all walks of life, you realize there is no separation; we are all human, all deserving to live lives of health and happiness.